Travel – City "Magic Modes" 1920-1930
A special kind of city travel coat, was essential for the Parisienne women during the 1920's and they are still "Magic Modes", today.  They have never lost there  modernistic appeal for us all.
Tailors were kept busy designing coats and suits in vast numbers.  Subtle design changes happened through this decade.  Early styles tended to be with lower waists and then flaired to the hem. Attention to fine details was always important for creating that captivating individual look.  Mostly cloche hats were worn in very imposing colours.  Wide brimmed hats also stayed popular, perhaps lingering from an earlier time.  Young modern ladies preferred the chic sharp cropped cloche look to go with the latest short hair cuts.
The Traffic is at a standstill  for these two ladies leaving the train station with their dog.  No green lights but a French traffic cop!  They have long jacket suits and warm wraps.  Printed: 2nd March 1930. 
Steam Train central station brings two luggage laden ladies.  They are dressed in simple garments a smart navy blue coat and a green shoulder cape over a suit.  Printed:  30th June 1929. 
Travelling by boat along the Seine river for a family excursion must have been a summer treat. So many things to see  for the little ones and a chance to dress up for the trip.   I love this sailor suit look, complete with his naval beret and the girls are smart in their coats. Printed: 16th June 1929.
Stopping by to pick some wild flowers,beside the winding route.  An excellent view.  Printed: 15th April 1928.
A family compartment all to themselves, even enough room for the pet bird! .  Waving goodbye – Au Revoir Paris.  Printed:  8th July 1928.
A city Promenade of Parisienne styles.  Printed  29th April 1928 
This fine print shows Luxembourg, with a winter street view.   Two ladies walking the dog in warm coats.  Printed: 16th January 1927.  
What are you wearing tonight?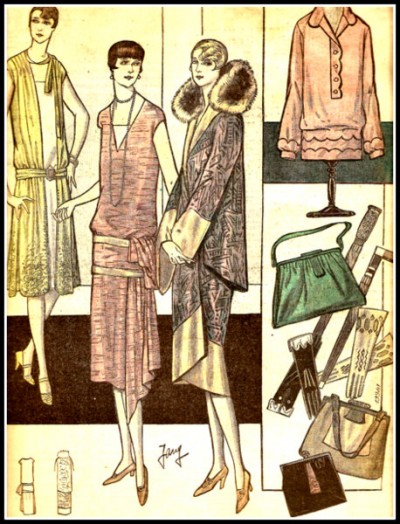 Evening gowns & accessories 1927
Hailing a Taxi.  Lets get home!  Wearing warm coats for the town. Printed:  14th November 1926.
Have you got the tickets?   It is a bit odd – a cape coat for hot July, must have been in case of storms, or a cool station platform.   This was printed  6th July 1926.
Hand embroidered travel bags.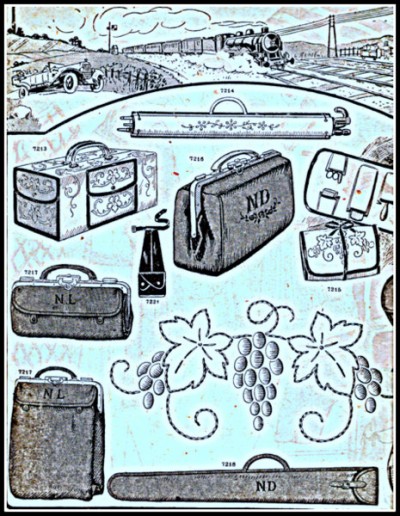 Champs-Elysees, Paris. The spotlights are on us!   City winter walking out coats Printed: 13th December 1925.
Hi Pick-Up!  can we all get in? Walking in the autumn.  Printed 19th October 1924.
Going home – La Retour des Vacances. Can you hear the train is loud** The long grey cape – Printed 16th September 1923.