Fashion Trends 1951, for TODAY
 I have just found a way to brighten up 2013!  BLACK is everywhere this winter that little black dress for noel, flowing and straight coats, tops,  skirts. shoes. Boots, hats and  head accessories.  O.K it's way we feel —  the mood it creates, it can either become what do I wear, I want to look elegant, evening chic, street cred or, you don't's see me I blend in! Personally it never dates for me and France is full of ladies in black, but New Year poses another question economics, so no buying new for January and February, I'm waiting for the spring-time.   Well in 1951 they probably had the answer, a blaze of colour was added to that problem just add it to any winter garment and it changes the mood, lifts the spirits and gets immediate glances.  Just about any bright colour even white, can be easy to find in existing wardrobes of 2012.
When a stunning Rose pink flashed, upon opening a page of an old fashion journal I recently found, this idea evolved. My old scarf bag came out and had nothing to compare with this vibrant rose pink.  Red reminded too much of Noel, so was green.  If not too garish is the preferred trend how about deep purple, maroon, grey, or mixtures of them all!   Has anyone else any bright ideas for early 2013?
Fashion trends for Spring, the perfect  suit from 1976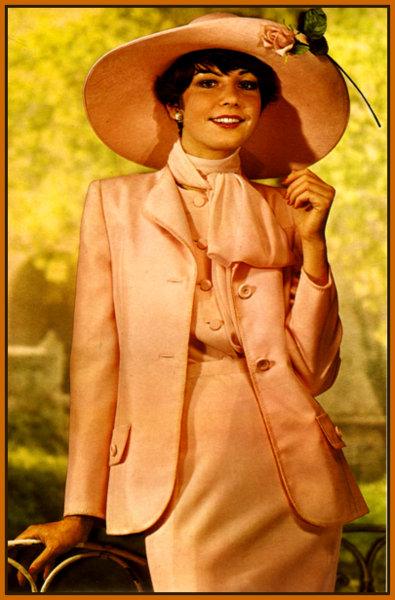 Pierre Balmain pink suit 1976