Edward Henry Molyneux ~ 1891-1974 Fashion designer
Biography of Edward Henry Molyneux, fashion designer
In 1919 ~ He opened his own Fashion House. He expanded his operations opening more Branches in France, 1925 in Monte Carlo, 1927 in Cannes, and then 1932 in London. His fame spreading he progressed to dress European Royalty, British high society, the actresses Greta Garbo, Gertrude Lawrence, Margaret Leighton and Vivien Leigh.During the 20′s & 30′s his narrow long line elegant style became much sort after by many highly prominant ladies in the world of the arts.
A fine Caricature shown in a French Fashion Journal with some French text about him.
Drawing 1938
Edward Molyneux with Jeanne Lanvin in her later life taken at an important Fashion Celebration event in Paris, 1945.
Molyneux with Jeanne Lanvin
An extremely good design, shows this long lean look by Molyneux on this front Cover Journal dated 1937.
Ultimate elegance, this dress and jacket is in pale pink, with an opulent hat in black. This is a timeless image and could well be redesigned for today! The only thing I would change is the length of the skirt so that it would not drag on the ground, but it was exactly right for the times.
Front Cover Journal
1938 – A rich gold evening dress, for a grand occasion. Artist: Eric (Carl Erickson).
Edward Molyneux ~ LUXURIOUS GOLD ~ 1938
1938 – Part of his "Special Collection" described as:- Magnifque robe de satin rose orchidee. Les manches gigot sont fort nouvelles. De grosses roses rouges dons les cheveux completent l'ensemble.
Fashion Drawings – 1938
In Paris just before the outbreak of World War 2 he escaped to England on a COAL BARGE. In the midst of the confusion and the soft soot came Molyneux's former Batman his Butler for 20 years efficient Pawson, in a white jacket, carrying a tray with glasses and a shaker of Martinis!
When in England he worked to benefit the Allied war effort. He was determined that the Paris House would stay open, providing a stable income for the staff. The proceeds from the London Branch went to the British Defence Budget. He funded wartime canteens in London and Paris as well as a school for couture workers and a camp for war victims. He chaired the Incorporated Society of London Fashion Designers.
The Artist Benigni painted this cover for Modes & Travaux in 1941.
This warm fur lined hooded coat is just right for walking the dog!.
Edward Molyneux – Artist Benigni 1941.
This quote was written by Bettina Wilson referring to: What does the Couturier do at his own show? "Molyneux modestly sits in a corner of his first salon with friends and shows remarkable agility in escaping after the collection, before the ~ too, too, divines ~ break over him".
Molyneux abhorred exaggerated decoration and preferred the minimalist fashion style, actually banning anything superfluous that he did not like. His military self-preservation and Irish/English background made him more spartan in the world of French Couture.
1945 – He returned to Paris, opening on the rue de Royale.
1945 Artist: Rene Gruau
1945 – Artist: Rene Gruau. A long lean black evening gown ready for a night out in Paris.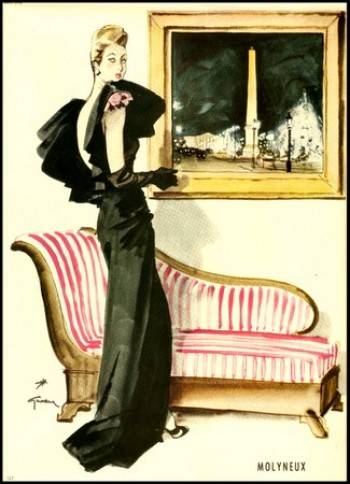 1946 – Molyneux designs a classic black day dress ideal for any smart Paris event. The grey day suit with red accessories is by Balmain. Artist: Pierre Morgue.
Edward Molyneux & Pierre Balmain
1946 – Perfume advert signed by Molyneux.
Signature perfume advert 1946
1947 – This image epitomizes a simple French theme of the black top and bold striped skirt with the main emphasis on the textile itself. A colourful image by the Artist: Roger Descombes.
Artist: Roger Descombes 1947
1947 -Yellow evening gown for dancing the night away.
1947 Artist: Rene Gruau
1948 – An interesting old advert showing the Paris address location for Molyneux.
Place de la Concord ~ 1948
He used a lot of black, dark blues and also grey. The images we have found in our collection seem to fit exactly with the known facts about his styles. He designed especially for chic easy to wear evening gowns and the other extreme outfits for travel in the motor car for women!
Check day dress 1949
1949 Dress description
In 1950 ~ Paris – He retired to take up painting leaving his Fashion House in the hands of Designer Jacques Griffe. In 1964 ~ he opened his Studio Molyneux returning to producing high quality fashions, a line of ready to wear garments that received mixed reviews.
He retired again in 1969. Perfume, cosmetics, millinery and lingerie were incorporated into his overall Fashion business. Admiration came from Pierre Balmain who described him "as a temple of elegance where the worlds well dressed women wore the inimitable two-piece and tailored suits and pleated skirts bearing the label Molyneux".
This label belonged to a magnificent silver grey evening gown with a richly encrusted jewelled bodice. I had the great pleasure of being shown this gown by the owner, which was originally part of her mother's dress collection acquired when she was in London.