Elsa Schiaparelli ~ 1890-1973 Fashion designer
Biography of
Elsa Schiaparelli

, fashion designer

Elsa Schiaparelli was born in one of the ancient Roman districts called Traestevere, at Palazzo Corsim, Rome, Italy. Her mother was partly Scottish, and her father came from the region of Piedmont, in Northern Italy. This was Elsa's childhood home and her schooling. Upon coming of age she came to Paris, where her fame was to begin.

Read more ↓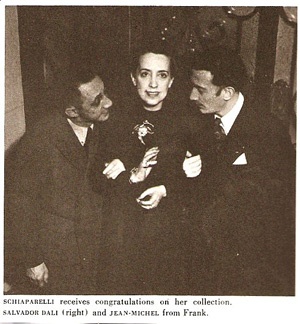 On the photo above , Elsa Schiaparelli being congratulated after a fashion show by Salvador Dali.
This quote was written about the photo by Bettina Wilson. "Schiaparelli stays behind the scenes, looking every mannequin over before she goes out. She has probably not slept more than two hours the night before, and is nervous as a prima donna making her operatic debut. Her friends have to pull her out of the back hall afterwards to tell her how good her collection is. She is wearing a beautiful new flower clip, and Perugia's high soled black suede shoes which increase her diminutive height".
Early on Elsa visited London – then upon her marriage she went to America. During the 1920′s she was another Fashion Designer who was greatly influenced by the great Artists of the day and knew many of them personally. From a humble abode to her own Fashion House and designing glamorous costumes for film stars of Hollywood, was a massive achievement. Shocking Pink and Black and White are the colours known by the world, which are associated with Schiaparelli.
1930 Elsa Schiaparelli
Artist: Christian Berard. Three evening dresses and jackets.
Artist: Christian Berard –
Distinct Beauty products and Perfumes also broadened her business, these had very clever advertising, and captivated the Parisian feminine public. Pink beauty pots by Elsa. Artist: Marcel Vertes.
Famous pink beauty jars Paris
Her life is a fascinating story especially told in detail in the published book called – Shocking Life. – The Autobiography of Elsa Schiaparelli – V & A – Published in 2007. This has some fascinating photographs of her and her family. Everything is in this book and well worth a read.
Extensive travel in America, New York, ~ Moscow, ~ England, Scotland, ~ France,~ Spain, ~ Portugal & Italy, gave Schiaparelli enormous ideas and use for different textiles and designs. She also made many friends, and had influential contacts from this world travel.
1935 Elsa was the first person to use a zip in her garments. The coat below has one inside.
1936 London Autumn/Winter. This sophisticated long coat oozes style, and is an outstanding example of Schiaparelli at her best. The material is a deep rich purple/red wool, with wide lapels to the collar which are heavily beaded in contrasting bright colours. Who else would have put bright red gloves with this –  Stylish perfection!  This  beautiful painting  is by: Carl Oscar August Erickson (1891-1958),who was an American Artist.
1936 Long purple coat with beaded collar
This is a fragment of the above coat collar showing the bold accent to this magnificent evening style.
Red velvet, appliqued gold leather & beads
1937 – Artist: Christian Berard. Silver diagonal stripes in the textile of this pink ankle length dress.
1937 Artist Christian Berard
1938 This little drawing of Schiaparelli was found in a fashion journal with the French text.
1938 Elsa Schiaparelli drawing
1938 – Embroidered long  suit and slinky pink dress.
1938 Fashion Journal styles
French gown text
Text for two gowns 1938
1938 – Shocking pink Schiaparelli jacket with fur trimmings and a green one for Molyneaux.
1938 Jackets of the day
1939 – Sharp! This black and white photograph from a fashion journal shows an unusual design, with pockets at the back of the dress convenient for quick notes, or that special phone number.
1939 Exclusive design by Schiaparelli
1943 – Shocking perfume advert.
1943 Artist: Marcel Vertes
1944 – Perfume advert called Sleeping.
Clown advert 1944
1944 – Perfume Advert Shocking – Blue bird.
Blue Bird advert. 1944
1947 – Fashion journal Elle. Front cover by Schiaparelli.
1947 Fashion Journal Elle
1948 – Artist: Drian. A colourful painting of Elsa at home .
Artist: Drian 1948
1948 – Red Lipstick Advertisement.
Red Lipstick advert
Like all great Fashion Designers, she had a unique instantly recognisable and individual style which was highly desirable. Her talent together with her natural business sense created an EMPIRE.
Fashion house garment label