Emile Pingat ~ 1820-1901 Fashion Designer
Biography of Emile Pingat, fashion designer
As well as in Paris he was greatly sort after by American Society clientel, requiring exclusive gowns specifically designed for them. A master craftsman of design and fabric opulence, yet little is documented as to his personality.
Many gowns have survived and are kept in Museums in America. It has been said that the dresses are as beautiful on the inside as the outside. Tassles & Embroidery to the surface designs of these Cashmere Jackets dated 1873, were worn in the time of Pingat (Reference Note: Pingat was regarded as the superior Master of the Mantelet with his incredible detailed surface designs.
Also he used sharp pleats to the hems of some of his gowns). Short to long over jackets with ornate embroidery using flowers are shown on this design with the long pointed fronts. (Reference Note: Pingat was known to love and use Poppies in his designs, so these have a similarity to the ones he would have designed in 1873).
Comment: I think this could be no other designer, but Pingat.
Evening Gillets (Veste Sans Manches), for the Theatre. Drawn in 1873 (Reference Note: Pingat designed a long jacket in black velvet with a different material to the sleeves, creating a Gillet look in 1893). These ones are stunning and could well be used in a design today.
The style of Ball Gowns used in the time of Emile Pingat drawn in 1873.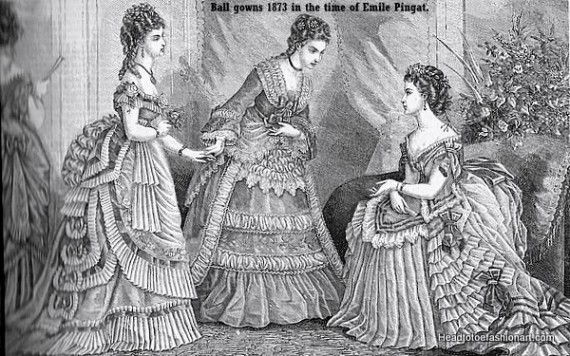 Long tassles to this black gown are surely the creation of Emile Pingat an exquisite unusual feature.
Pingat & Worth are linked in an American SCANDAL of Spring 1892. ~ "A SALE of SIEZED GOWNS" is reported in New York, creations of Worth and other Parisian Tailors. Smuggled in to avoid Customs Duty.
Quote: "Stored away in the Office of John W. Jacobus, – United States Marshal, in the Federal Building, is a number of the unapproachable creations of Worth, Pingat and other fashionable Parisian Tailors. The entire lot is to be disposed of at auction next Saturday, at l p.m. in room 55. Besides the tailor-made gowns, there is an assortment of handkerchiefs, hosiery, silk under wear, bonnets, hats gloves, DIAMOND BROACHES, wraps, lace skirts, laces and boas.
ALL of the goods are NEW, and the dresses and costumes were made for this Spring's wear. (8th May 1892). There are, in all Fifty eight lots, which were seized for NON-PAYMENT of CUSTOMS DUTIES. Forty six of the lots were taken from Lizzie Nast, who was a passenger on the BRITANNIC when it arrived here March 19th, and who attempted to bring in the goods without paying duties. The remaining lots were seized from Mrs J.O. Allebone, aboard La Bourgogne upon it's arrival here March 6th.
ALL THE GOODS will be on exhibition at the Marshal's Office May 12 & 13th from 10 a.m. to 3 p.m. and on the morning of the sale, where measurements and other information can be obtained". Presumably these ladies were used or employed by the Courtiers to smuggle! One wonders what the Duties were to risk this they must have been rather exhorbitant, but they were not the only ones involved in gown importing illegally to U.S.A. (See the John Redfern page about the subject).
Speculation – Do you think the French Authorities reported it in France?! We think not as reputations were at risk… He had no successors to his Fashion House and in 1896 passed it on to a younger Designer, A Walles, but then it did not continue past the early twentieth century.
The gowns and photographs are an important insight into this magnificent sumptuous age of Fashion, and so any record however small, can be invaluable when added to the overall picture of his reign. These drawings have been chosen to represent Pingats era and do not claim to be his – but they have a stong resemblance to the time and have similar design connections.
To date we have not been able to locate a picture of this iconic fashion master our search is on! Latest Addition: Watch this space possible new find to come.
March 2012  –  Located some more styles in the era of Pingat, they look to be very similar to his particular finishing touches.