Jacques Fath ~ 1912-1954 Fashion Designer
Biography of Jacques Fath, fashion designer
His grand parent was Rene-Maurice Fath whose mother had been a Couturier to the Empress Eugenie and a well known landscape painter. His great grand-parents were Caroline & Theodore-Georges. She was a Dressmaker and he was a Fashion Illustrator and writer. Jacques studied book-keeping and law at the Commercial Institute Vincennes, France. He was a self-taught Designer, who learned his craft from studying museum exhibitions and books about fashion. He was for a short time in (1930-1932) a Trader in the Paris Stock Exchange. First Fashion Collection – 1937.
Fath worked from two rooms on the Rue de la Boetie. The studio was later moved to another location on the Rue Francois Premier in 1940, then in 1944 he moved again to 39 Avenue Pierre Premier de Serbie.
In 1939 he married Genevieve Boucher de la Bruyere, an actress & former Secretary to Chanel. He served in the artillery at the beginning of the war and was briefly taken prisoner in 1940. He was released after a month this is when he opened his Salon, with his wife Genevieve.*
Jacques Fath hired several young new Designers as assistants and apprentices, many continued to form their own Fashion Houses, including Hubert de Givenchy, Guy Laroche, and Valentino Garavan.
In 1944 he made a final move to a luxurious Hotel particulier at 39, Avenue Pierre Premier de Serbie.
1944 – Designing a sumptuous evening gown and also a smart checkered dress. The description is enlarged in French.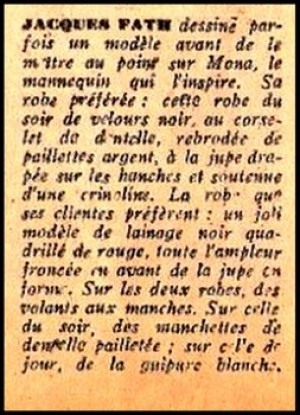 1945 A traditional black evening gown for all to admire by Artist: Rene Gruau. 1946 Time for luxury evening gowns to celebrate the liberation of Paris.
1946 – Still the fascination in the design of the Crinolin, This magnificent example the first one in Green for Jacques Fath! The third one is below another 6 years later on, also in green. This design must have been a favourite for him, and it is painted by Pierre Mourgue.
1946 Jacques Fath trying out one of his dresses on his wife Genevieve. He began his designs by actually directly draping the chosen fabrics on the mannequin, or even sometimes on himself to see the effects. While a team of workers were watching ready to transform this into preliminary sketches for the style.
1948 he contracted with the Seventh Avenue ready to wear manufacturer Joseph Halpert, to design two annual collections of dresses and suits.
In 1948 – The FAMOUS FILM The Red Shoes, had Costumes by Jacques Fath. This is stated in the Credits list. The lead roll was Danced by Moira Shearer. 1948 Artist Christian Berard and Jacques Fath together in a black and white photograph.
1945-6  The Theatre de la mode Exhibition of Paris was held with J.Fath as one of the exhibitors.     I think this was one of his designs shown, as it is a majestic full volumed skirt in the style of the crinoline and velvet and satin green textiles. Image update entered 28 June 2014. and see top right design.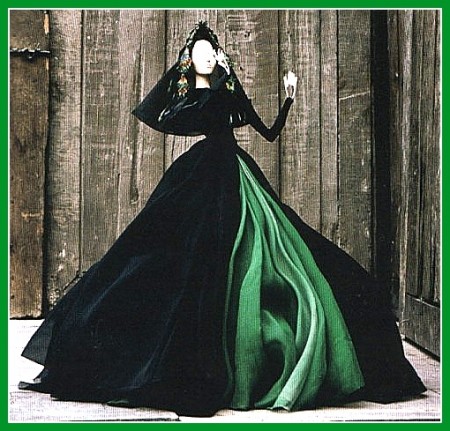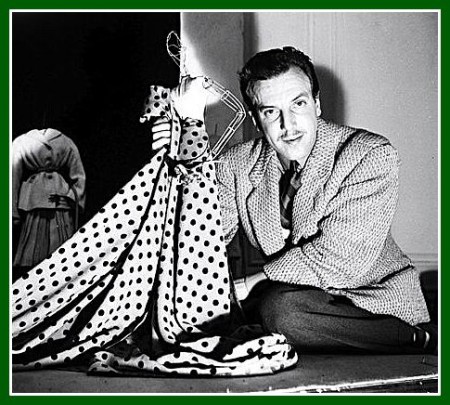 1948 A sensational black dress and coat lined in soft pink satin. Calling all new Designer's This one would be great for 2011!.
1948 Artist: Rene Gruau. Designs by Jaques Fath and Paquin.
Sunshine Days in August 1949 A bathing costume complete with modisty red coat for strolling the beach. Exclusive dyes were used in the fabric which made it unique for it's time and also difficult for his competitors to copy.
In 1949 He appeared in the film Scandale au Champs-Elysees 1949, directed by Roger Blanc. He also designed costumes for several films from 1948 to 1953. AMERICA – His magnificent designs enhanced the female form creating the most glamorous dresses to come from Paris after the war.
Jacques adored colour in his textiles and exciting designs and he forged a strong link with the American manufacturer Joseph Halpert, designing a very successful low priced range for the American market. Eventually his designs were accepted in America and it is quoted that Carmel Snow, editor of Harpers Bazaar in 1949 said, "He makes you have sex appeal, and believe me that's important".
The glamorous Film Actress Rita Hayworth was his Client. For her marriage to Aly Khan, he made her Wedding dress and trousseau. (27th May 1949).
This stylish design is a dress that could be revived today, dated from this journal in 1950. The Artist: Pierre Mourgue.
1951 – Photo Shoot Spring Crinolin Ball Gowns The bringing back of the "Crinolin Craze" is the style of the moment!
1951 – This fabulous Green full coat designed to go over a very full skirt or equally as well a slim-line black dress.
The description on the print reads as follows:- CE VASTE MANTEAU EN "TIBOUK" DE LESUR. DOUBLE DE COULEUR CONTRASTANTE , A UNE COUPE DE MANCHE TRES NOUVELLE ET SE FERME EN CARRE.
May 1952 Jacques Fath designs the black and white fine spotted dress for the front cover of Mode et Travaux. Quite a surprise – I did not know he based a design for this magnificent green skirt on the Crinolin style worn for the evening at the Princes residence shown with the stunning velvet dress by the side created by Dior. (1952). This was the first one we collected the other Crinolin's are above. Many of his evening dresses were taken at Photo Shoots at the Palace of Versailles, Paris because of the rich luxurious settings, and they really made spectacular entrances. Whow at every glance!
Jacques Fath had the marketing gift and tremendous personal appeal. He introduced Perfume. He gave parties with his wife which had the effect of producing great publicity, further enhancing his business success. 1937 – A perfume advertisement for Fath called Canasta was attractive, and perfumes continued after 1954 in the name of Fath and this one is a later advert. dated 1957.
Behind the scenes he was struggling with appalling health and died at the early age of 42 of leukemia in 1954. The American press hailed him in 1953 as the "Fabulous young French Designer who is out to make every woman look like a great beauty. A great Designer who should be remembered with the highest acclaim of his generation".
Unusually this signature has a middle F Any guess as to his middle name?