Maggy Rouff ~ 1896-1971 (page 2) Fashion designer
Biography of Maggy Rouff, fashion designer (page 2 of 2)
1942 ~ FAMILY WEDDING BELLS Maggy's daughter Anne-Marie Bescancon de Wagner gets married to Jacques Bordreau on the 13th June, 1942. Of course her gown is by The House of Maggy Rouff and is described as: A ravishing gown of Viennese embroidered lawn and organdi/voile, she is attended by four young girls in pink with sun hats. Read more ↓
A high profile society Wedding is held with many particularly elegantly dressed guests and it is recorded that her other sister attends, the Vicomtesse de Dancourt. and her dress is of multi-coloured floral crepe. Maggy Rouff is behind the three attendants her fabulous large hat is pictured in the photographs below, together with exactly what she is wearing for this special day. This is a selection of the actual Wedding photographs printed in a fashion journal at the time. The article even gave details of the menu for the Wedding Reception and the recipes for the snacks.
1. The bride Anne-Marie on the arm of her Father. (The elusive Pierre maybe?)…
2. The Bridesmaids are coming along behind and then the rest of the family are following, the first one is Maggy Rouff.
3. The line of family includes the Brides sister and then the wedding guests.
4. The wedding reception. The weather report says is was pouring with rain.
5. The Bride and Groom leaving by coach. They used the original coach owned by the Actress Rejane- (see full pic on the Doucet page).
1944 Maggy Rouff in her Office actually on the telephone. The text describing her designs is readable in French the dress is below. This cutting is a bit fuzzy because it was printed on poor quality paper. This fashion journal was just ready to be thrown in a skip! Does anyone recognise the paintings in her office? Blog or e-mail us if you do. Maybe she had cats.
1944 – Dresses as described in above text:
What does the Couturier do at her own show? "Maggie Rouff gives a late party with everyone in full evening dress, an orchestra in the distance, and bowers of flowers. She herself receives and sits through the show with the air of an interested spectator, rather than a nervous creator," This quote was written by, Bettina Wilson. 1944 – Paris Photograph Maggy Rouff.
1944 – Artist: Christian Berard.
After the second world War 1945/1946 – written in the book Dressmakers of France was the quote :- "After the second world war the business was transferred to the present address – and a business combination was set up with the well known Furrier MENDEL. Maggy Rouff had always had a particular interest in furs, so this was only an extension of the formal cordial relationship".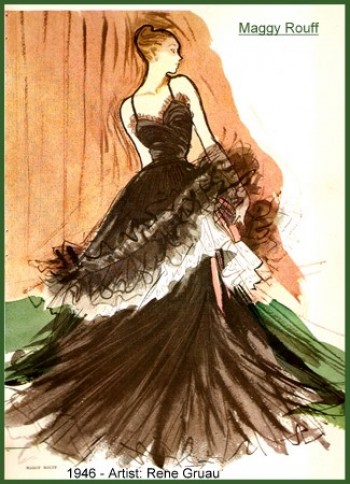 1946 – Artist: Rene Gruau. This painting is a swirling black sensation and exactly shows a dress for dancing .1947 – Artist: Rene Gruau.
1947 – Paris Fashion Show report: "Maggy Rouff's November Collection is devoted to Christmas party gowns, Riviera ensembles and winter sports. Spectacular crinolin skirts, in magnificent fabrics, especially gleaming satins, they are set on tight bodices that drop gracefully off the shoulder, but have short puff sleeves. Those untrimmed, in dove gray or lichen green, are quite as lovely as the more elaborate, among which a pale gray was especially admired, for just above a gathered flounce at the hemline is a slotted coco velvet ribbon a foot wide". 1947 – Artist: Blossac. Dancing. An un-trimmed simple grey similar style to the report above is depicted in this painting, not quite the same but it was the most popular colour for the season.
1946 – Came the perfume called "Secret" , and in 1947 – this flower perfume advert, "Euphorie". Some other perfumes launched after Maggy Rouff were called: – "Etincelle" – Fleur Folie" – "Excentric" – "Contact" – & "Pele-Mele" .
1948 – Painting – Night life Paris – Benito. Christmas Fashion show in Paris in 1947 showed this effect to a dress and it was described as: "Burnished copper velvet is simply handled by shirring (elastic) encircling the hips". This lady has long gloves to match.
1948 Maggy Rouff retires – It is recorded that Anne-Marie was in the design department. The Director General stays Jean Howald. 1948 – A new Designer arrives. Lucie Eisenstab, was born 23rd Nov, 1926 in Vienna, Austria. The district was called Favouriten. Her father's job was in the garment industry. They had to flee Nazi Germany. The family escaped to Cologne, then on to Belgium. Again in 1940 they fled, their destination was Paris but they were diverted and arrived in the south at Toulouse.
Going on to Lyon & Switzerland, and the struggle to stay alive as refugees was extremely hard. Eventually Lucie went to Paris, where she walked the streets visiting all the fashion Designers for work, until she was taken on by the House of Maggy Rouff in 1948. Her rescue and tenacity began her own story of becoming a successful Fashion Designer. Lucie met Maggy's daughter Madame de Darncourt. The complexities of running a Fashion House were quickly learnt in the difficult times after the war. Philip de Gramont was in charge of the Press and he engaged Lucie to help him.
This Fashion sketch was by a young Designer by the name of Christian.
1948 The Fashion House had 6 Models with Fashion Shows every day showing their designs. As well as designing Lucie was appointed to handle the Press & Publicity. Lucie made up a portfolio and found a job as an Illustrator for L'Art et la Mode Magazine & Femina Journals. (1950). In 1951 Lucie went to U.S.A. New York and became a Fashion Designer for more than 40 years. Married Paul Peter Porges. We were especially privileged to be given an extremely interesting letter from Lucie, at the top it records some Fashion House information, it is dated 4th Juin 1951. Signed by Jean Howald who stayed for three decades and is known then as The Directeur General. In the book written by Picken & Miller in 1956 Dressmakers of France. It was noted about him again. "M. Howald directs the business of the Fashion House. He kept abreast with the times and had Boutique collections with a high reputation. He also directs a large Blouse business in France & Switzerland, in later years he added his own line of Stockings. (He carried on in the business after Maggy had retired, during the time her Daughter became the Designer.) We know nothing more about him after this time.
1962 – Sheer Elegant perfection this dress is made of a heavy white cotton with large raised black embroidered flower designs. 20 years after her book in 1942 – this photo epitomizes her visionary talent and her continued creative elegance carried on by the House of Rouff.
More News is During the 1950′s and 1960′s Maggy Rouff worked on some clothes for the films:- Bibi Fricotin 1950 – A Cartoon. Si Versaille m'etait Conte. 1954 – Directed BY: Sacha Guitry. La Belle Americane. 1961. A Comedy in black & white. 1962 – Pure wool suit textile advert.
(Note: To Vintage Clothes Collectors: Many garment fashion labels may have just the name of Rouff in them and often can be mistaken as designs by Maggy Rouff, but they could be earlier from the original House of ROUFF before she took it over in 1929). 1962 – The 60′s smart straight look. A textile advert.
Maggy Rouff received AWARDS Chevalier de la Legion d'Honneur; Conseilleuse du Commerce Exterieur. Her daughter Anne-Marie, also kept the family name Besancon de Wagner she carried on and was designing in tradition with the elegant style of the House, until just before 1971. 7th August 1971, Maggy Rouff died she was 76.
Comment: This intriguing mystery, and story of the Fashion Empire of Maggy Rouff requires the writing of a Screen Play for a film spanning many different senarios as to her real identy and the secrets of her life! (Headtotoefashionart – we hope we get a mention in it).
Latest Entry  May 2012    A really perfect Vintage Wedding Day Dress  An elegant sort after gown very much in style during the 1940's.   This photograph is by kind permission of the Daughter of this model, which is much appreciated.
End of part 2 of 2