Marcel Rochas ~ 1902-1955 Fashion Designer
Biography of Marcel Rochas, fashion designer
This was supported by the famous Jean Cocteau, Cristian Berard the Artist, and also by the Designer – Paul Poiret.
It is recorded that he had a determined strong character with a natural business acumen. His initial Fashion Fame came during the era of the erupting exuberance of the Twenties.
His motto was ~ Youth, Simplicity, and Personality ~ catching the attention of the young trendsetters of Paris.
1930 ~ He claims to have invented the name TROUSERS or SLACKS, and eventually he used flannel materials of the best quality for these and incorporated them for the designs of Trouser Suits. Also "Elegant Thirties style", was heavily promoted, with rich textured fabrics.
1931 ~ His Fashion House moved to Matignon Avenue. Successfully, he not only designed beautiful clothes for the fashion market, but crossed into many other fashion related products.
1933 ~ Wide shoulders became the rage, and his focus on the feminine form was to be on the shoulders and arms, with designs showing these features, including elaborately decorated sleeves.
1935 ~ continuing his fame attracted Vogue which showed his gowns drawn by Cecil Beaton. Read more ↓
1936 ~ Marcel Rochas launched his first perfume, with many to come. In the late Thirties he favoured the slim-line look for his clothes.
1937 – Designed by Rochas this Front Cover Journal was painted by the well known Artist, Leon Benigni (1892 – 1948).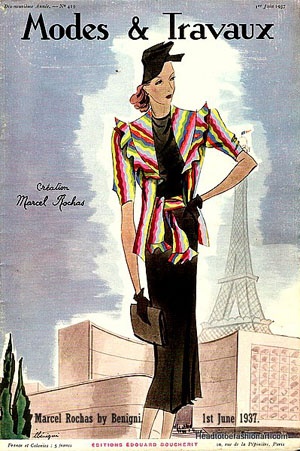 This long wool Jacket, in a pastel blue has the most unusual side hanging pocket lined with the same material as the dress complete with her smart hat to match.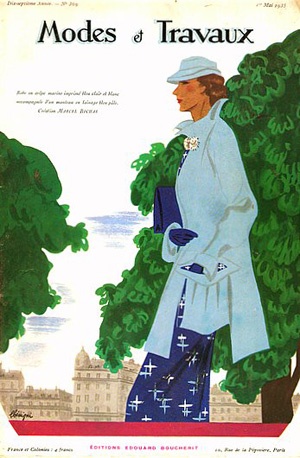 1941 – The little black jacket and flaired black and white patterned skirt painted for this front cover of Mode et Travaux is a smart design.
1942 ~ Came the launch of his exotic range of feminine corsets, promoted and bought by many famous women especially American Stars. Black lace and tight waists were exquisitely designed (see top right column for a corset (bustier) created in 1948).
1944 – enlarged section from Journal feature above . The dress colour is Pistache.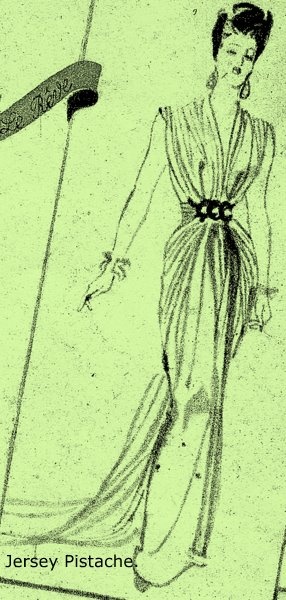 1944 – French text description for gown Pistache.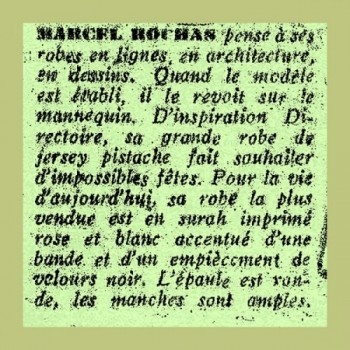 1944 – Hard at work a rare find photo's and designs by Rochas with full description given in French.Large view of the dress below.
1945 ~ His Perfume – Rochas S.A. was established. Many Rochas Perfumes were launched by his successors, alongside more fashion collections (see bottom column for a 1957 poster of his perfume entitled Femme.
During the 1940s, Rochas name was for ever in the limelight with creative and new designs.
1945-6  Marcel Rochas exhibited at The Theatre de la Mode Paris  his designs on small dolls.    Many designers also attended and their designs are shown on the other Fashion designer Biography pages. This photo was added 29 June 2014.  
Latest News: I have just found the photo of a corset dated 1948. Iit's not black but patterned (see below) – complete with a poem!
1948 – Rochas designs the Bustier!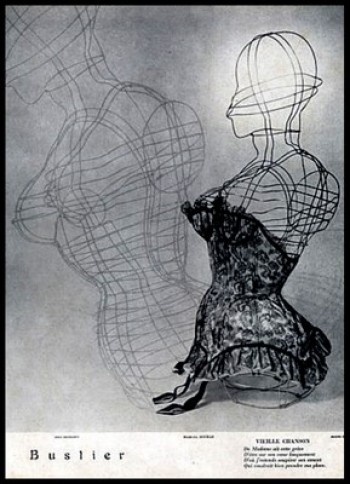 1948 – Cocktail hour by Artist: Rene Gruau.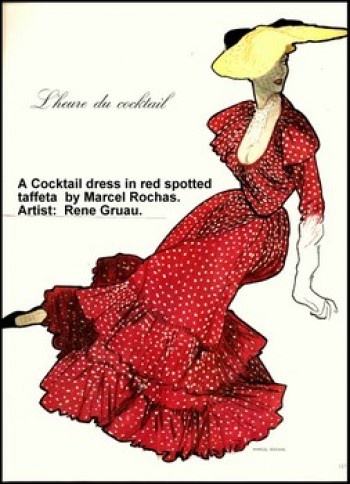 1950 ~ The 1950s in reflection brought very definite changes, Rochas designed and went with the flow of separates, but as in his ethos,
he set distinctive new styles, and his trouser suits were both practical and in style.
A 1950 Lipstick advert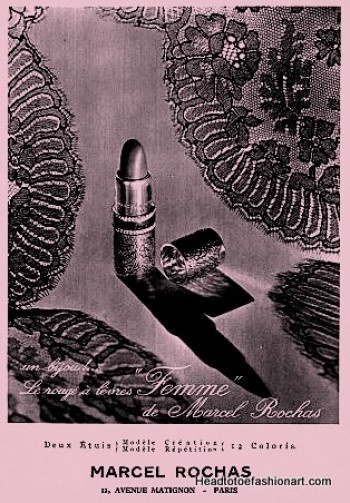 Helene Rochas, married at the age of 18 and eventually took over from her husband in 1955.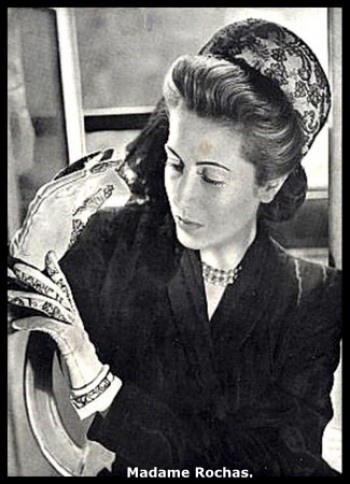 A 1980′s interpretation of the famous "Mermaid Look", adapted to this fabulous and unusual Wedding Gown.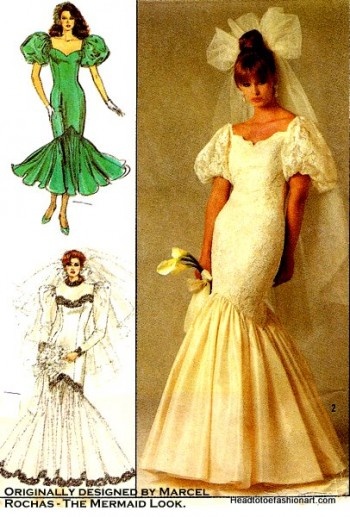 1987 ~ The cosmetic business Wella purchased the Fashion Empire of Rochas. The Rochas Fashion House garment label was known to be a dark blue background with bold white and red lettering. We are hoping to acquire one for this page.
The Rochas story continues today but the new emphasis is not related directly to Fashion.
---