Nina Ricci ~ 1883 - 1970 Fashion designer
Biography of Nina Ricci, (Marie) – Fashion Designer
For Latest New page images  20.4.13  & – Now 28 June 2014. See dates 1945-6.
 SExclusive  for 1976 at bottom of this page. 
Nina Ricci was born Marie Nielli in Turin in 1883, and at the early age of 12 with  her family moved to France.  Her fascination with fashion began at this time. Incredibly at 13 years old she became an apprentice to a dressmaker and at 18 was the head of the  Atelier.  She rose to be the Chief Designer at 22.
Nina and her husband a jeweler Louis Ricci had one son Robert.
Nina regarded dress design as a series of problems to be solved. She used her intuitive feminine intuition and natural talent to master these skills.  Directly working with the fabrics on the mannequin, she sought to discover in the cloth the answer to what the dress would eventually be. This style of designing was also used by Mm. Gres.
In 1932  she decided to stop selling her designs to other fashion houses, and opened her own establishment. Her son Robert had a promising career in advertising, but she managed to persuade him to join her and together they opened the House of Ricci.  It was a single room at,  Boulevard de Capucines.  Nina produced the garments and Robert  was in charge of running  and promoting the business.
The Ricci Fashion House grew rapidly all through the 1930's.  Intoxicatingly feminine designs became her signature, using draped fabric in the style of ancient Greek Goddess's, to inspire her flowing visions.
1935  –  When describing a dress in 1935 she spoke of several aims:  to achieve the maximum lightness so that the dress would be perfect for dancing;  to give the dress a "grand sobriete"  that in  her mind would render it most appealing to the youthful, and to find that elegant detail that would make the dress to be a client's favourite.
1936  – A huge fur collar on a dark red tailored suit crosses a busy street.
1937  –  Jeaux Dangereux  –  A dress given this name (Dangerous Games) featured a rather daring decollete' with a halter neck open between the breasts to the waist!  Day and evening gowns alike drew attention to the figure by being fitted below the waist they featured as lot of shirring and drapery.
DESIGN:  Nina Ricci was skilled at making the most of a fabric print design, cutting a plaid pattern for an evening gown on the bias – emphasizing the X-Cross in the skirt and the bodice.  When she was confronted with a black silk material printed with a floral border, she cut one dress so that the flowers marched across the bust, the rest of the dress was a long black column.
1937 – Winter black coat.
1939  –  By the  outbreak of war they occupied eleven floors in three buildings, all on the same street as the original Maison de Couture.
This fitted jacket has a curving front edge and is unusual, effective and smart.  The edging is black fur to match a fetching black hat.  The model has an A line black skirt also edged in a fur band around the bottom.
The 1940's brought many more wonderful designs.
1941 – Another red jacket, this time almost a coat with warm black winter fur! Using last years hat for good economics in hard  times.
1945  –  A magnificent perfume advertisement illustrated by Christian Berard.
Other Perfumes by Nina Ricci:-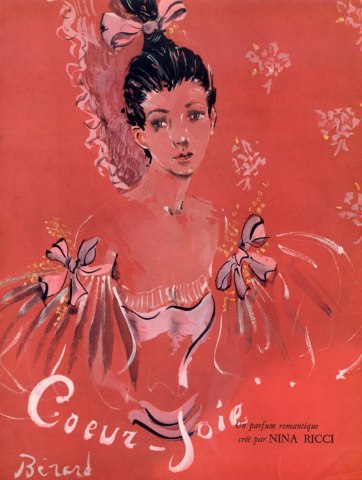 Perfume Advertisement by Christian Berard
1945-6   The Theatre de la Mode Paris  Exhibition of small dolls was attended by Ninna where she showed her designs, along with many great designers of the times.  These are some particularly stunning photos of her.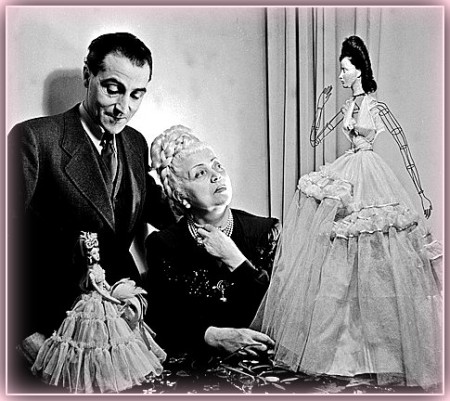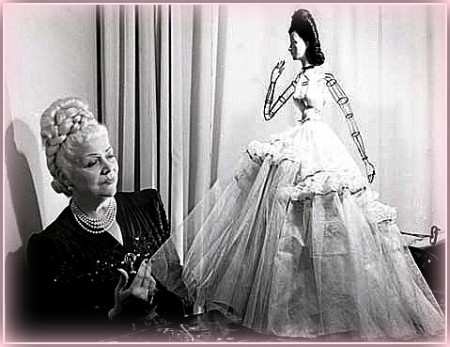 1951- Her classic Perfume was launched L'Air du Temps it  became a best seller.
Wedding Gowns by the House of Ricci
1954  –  Robert brought in a new head Belgian designer Jules-Francois Crahay, whose first collection, designed in reaction to the then prevalent chemise silhouette, made the front page of the New York Times.  Carrie Donavan wrote:   What has brought the house out of semi-anonymity was a collection that was feminine in the extreme.  Beautiful colouring and fabric, unbizzare and elegant.
Under Crahay's design direction the House took a stand for the plain get-through the day suits, and the knockout, unabashedly luxurious evening gown
                                    LATEST ENTRY:  June 2012.   
1962 –  An extensive Special  Collection was shown in a French Fashion Journal and Nina Ricci featured with many fabulous fashions from smart tailored suits to luxurious evening gowns.
Here are the very best Suits, Coats, Dresses, Hats, gloves. and long Evening Gowns::
A Winter TRENDY TRENCH COAT:
The Full French description: 
A coat style day dress of the utmost elegance: 
NOTE:   This coat dress has a deep wide black belt and matching gloves and this seems to be a very dominant feature to the Nina Ricci collection during this time.  The pale completely contrasting hat shows off this wonderful creation.
NEXT:   comes an amazing collection of their luxurious evening gowns showing the 1960's to have been a truly fashion orientated era.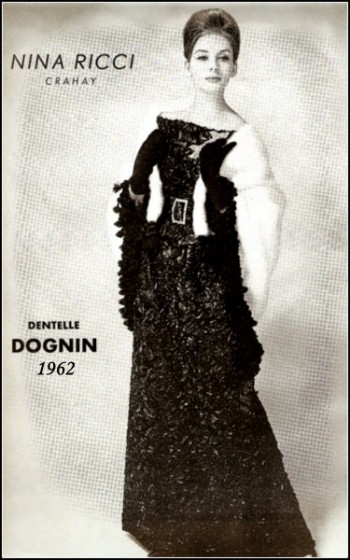 Designer:  Crahay.   Promoting the trend as ever for France the Black Evening Gown. A very long design, past floor level at the bottom  in a large curving shape.   A white fur stole over the shoulders.   The large black belt is also worn here.  Another evening gown for this collection was this unusual image. The textile was a fine nylon used extensively in a lot of garments during the 1960's.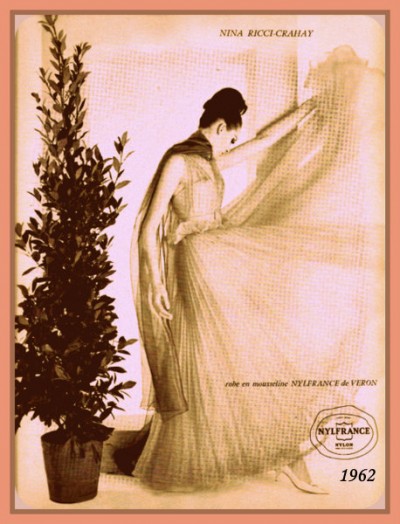 Another  evening gown for this collection .
A feel good dress  – with " Amazing full sleeves"
A NEW PERFUME  for 1962, this is the advertisement!
WEDDING DAY  1963
1963 Photo by Seeberger
.
1963  –  A Wedding goen by Crahay for the House of Ricci
When he left in 1963 to go to Lanvin  he was replaced with Gerard Pipart, a Frenchman, who had previously worked with Pierre Balmain, Jacques Fath and Jean Patou.
Pipart continued designing couture and also boutique collections.  He used beautiful lace and applique'd fabrics and made typically Ricci evening dresses along with silk day dresses, often based on the chemise.
1970  –  Nina Ricci died in 1970 and Robert continued to run the Fashion House they had founded together, including it's many new divisions.   In the late 1970's the Sunglasses were grossing 6 million dollars a year.
Note:   Vogue pattern designs used exclusive designs from the Ricci Fashion House including the most elegant Wedding Gowns, and tailored couture suits.  Many old ones are still aavailable today in second hand form.
1979  –  A Dream realised –  when Robert bought the former Kodak Mansion at the corner of the Avenue Montaigne and the rue Francois Premier, just across the street from another Maison de Couture started by Dior.
Latest New designs found for 1976   A rare ARCHIVE 20th April 2013.    PARIS EXCLUSIVE.
Description:  Ensemble jupe plisse'e,  chemisier  en Crepe de Chine imprime' porte' avec  une veste simple butonnage  de laine Gabardine.  Chaussures  de Mancini.   
Description:  The  summer dress design with long shirt sleeves and a full skirt.  Fine stripes on crushed pale pink bring elegance and grace to 70's styles.
Description:   Ensemble, blouson long et jupe plissee en crepe de chine imprime' a carreaux.   A 1970s coat style, just below the knees.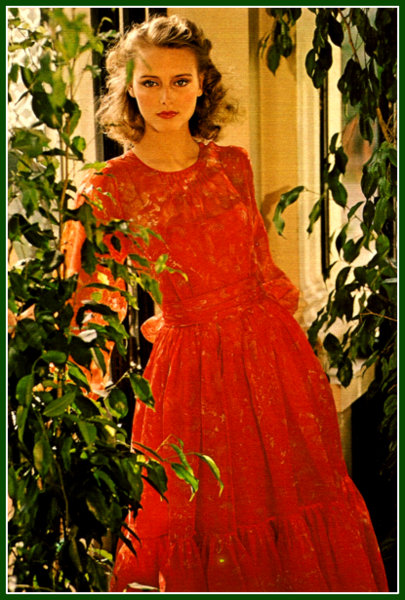 Red revival 1976
Description:  Robe du soir en organza imprime' de chez Abraham, jupe fronc'e garnie d'un volant, larges manches resserrees aux poignets, ceinture noue'e.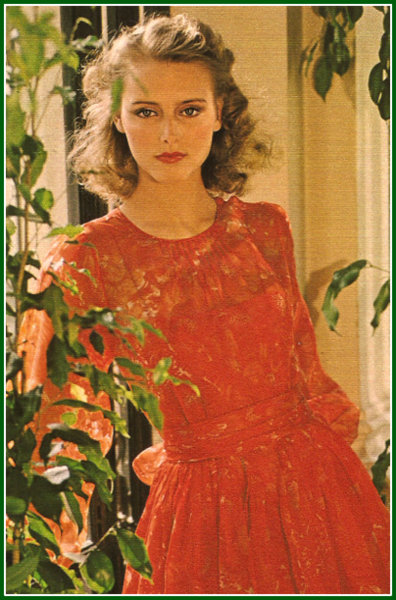 larger view
Description:  Robe de cocktail en crepe Georgette de Chatilon-Mouty-Roussel.  Corsage. plisse' et jupe a plis non repasse's pore'e avec une  veste assorte a empiecement plisse'.  Bright Orange for 1976 cocktail hour!
Description:  Robe du Soir, compose'e d'une tres ample jupe en organza imprime et d'un corsage en organdi de cotton, col decollete sur un empiecement  droit manches bouffantes,  ceinture noue'e, ornee d'un camelia.      Contrasting White and green make a brighter day.  
Description:  French. Robe du soir a taile basse en mousseline imprimee', decollete borde' d'un volant, jupe froncee'. Chaussures et boucles d'oreilles Ricci.
A long drop wasted evening dress in a flower  printed mousseline  An eye catching wide full border/collar to the dress which serves as a fine collar to the elbows.  Warmest orange gives this dress a  spectacular glow.  The House of Ricci wanted to make a strong continuation to their reputation and style, and with this collection, it seemed they did.  
Description:   Robe du soir en organdi de cotton, ample jupe et corsage, cape ornes de  plis religieuses,  fleur autour du decollete. 
Sumptuous romantic white for a summer special wins every time.
Possibly for a Wedding?   What hat for this?