Pierre Balmain ~ 1914-1982
Biography of Pierre Balmain, fashion designer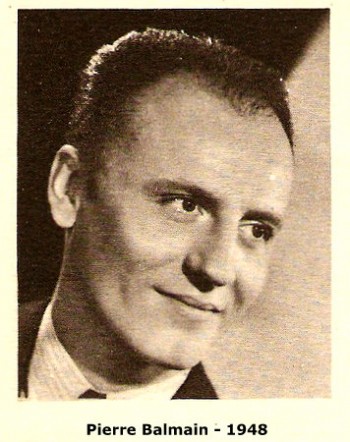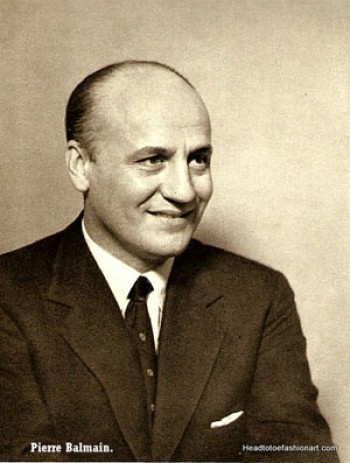 Where it all began before he was born. – 1913
This rare design is by his Aunt's Fashion Maison. The address was: rue de la Chausee-d'Antin, 3, Paris. The detailed description for this gown below is given in French.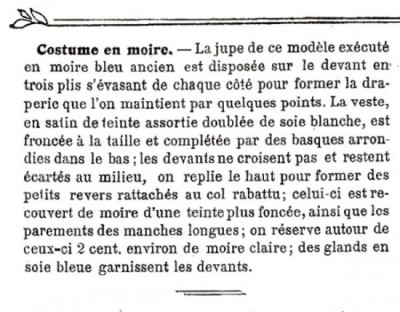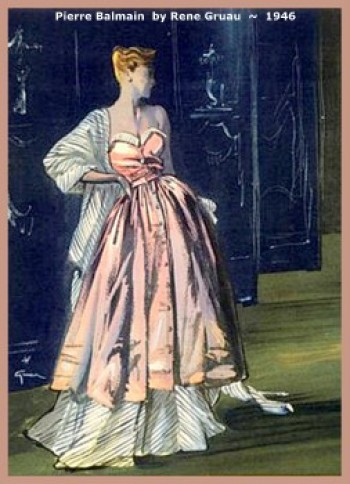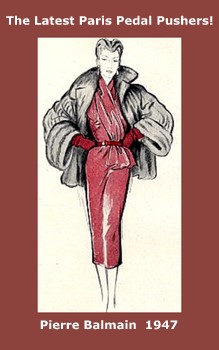 The 1950′s was for elegant evening gowns
1952 – For Winter – Ultra Warm. Very original and practical. The material is a grey Tweed/Wool from Scotland with a knitted crushed pink lining. A beautiful Classic design. "Ultra-Chaud Ultra-original, ultra practique, en-Scot-pek – de Lesur, beau et classique comme l'Ecosse, doublure iricolee main".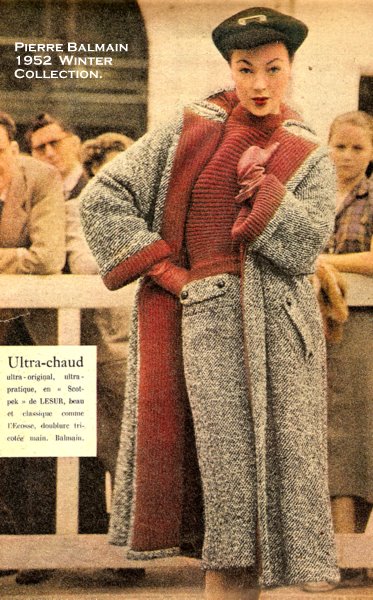 Between 1951-1972, he designed costumes for 16 films for the famous stars, Vivien Leigh and Mae West. His grand elegance was also in demand for the off-screen clothes of many Hollywood Stars.
He also designed for French films, including the famous film "God Created Woman", which introduced Brigitte Bardot to the world.
In 1951 ~ He opened branches in the U.S.A. selling ready-to-wear clothes. His success here has been attributed to the fact that he was able to translate French Fashions into clothes for the American woman's generally larger frame, without compromising style.
Balmain designed many sportswear collections for this market. Other successful Designers worked under Pierre Balmain, and went on to become famous in their own right, including:- Gerard Pipart from 1948, Jean-Baptiste Caumont briefly, John Cavanagh from 1947-1951 – and Karl Lagerfield from 1955-1958.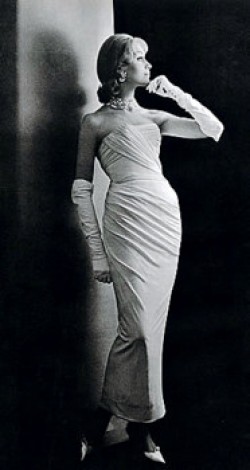 Photo 1962 – A simply breathtaking long dress shown by a stunning model.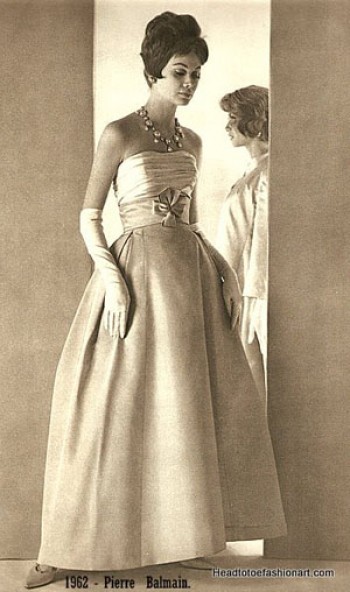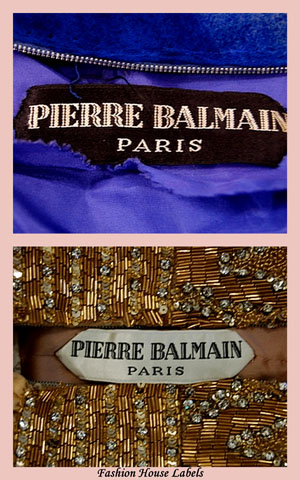 The family owned a drapery – wholesale business. Francoise, his mother worked at a Boutique, which was managed and run by her two other sisters.
We found a very rare drawing dated 1913! which depicts a smart jacket and dress by them – our first design.
Pierre Balmain inherited design from his family genes, especially from these two Aunts and his mother. Some of his happiest childhood memories were of him playing in this fashion Boutique, where his mother Francoise and Aunts made the dresses. He played with the fabrics and set his heart on becoming a couturier. His Father died when he was 7 years old.
He studied Architecture at the Ecole des Beaux Arts, in Paris, however this avenue was not for him. Diverted, he spent his spare time designing dresses. He took some of them to Robert Piquet, who bought three.
Then, in 1934 – Balmain worked for the Fashion Designer Edward Molyneux, staying there until 1939. During 1939 he was called up for compulsory military service. After this he began with Lucien Lelong, staying during the German occupation of Paris. Pierre Balmain opened his own Fashion House in 1945, designing long bell-shaped skirts with tight small waists a style which later became known as Christian Dior's "New Look".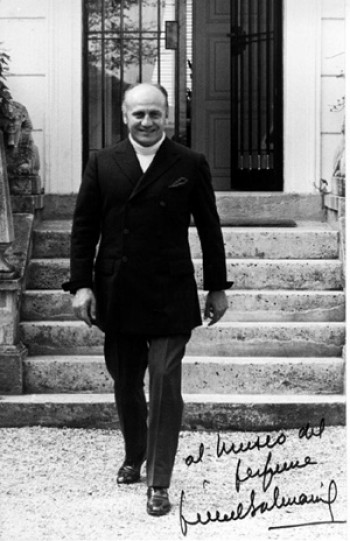 Could this be the Citroen Car belonging to Pierre Balmain?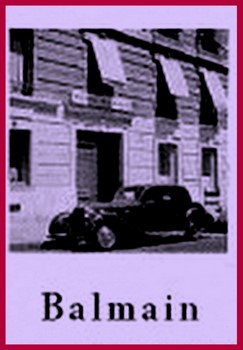 1947 – Brought the launch of a Perfume, which was named using his telephone number: Elysees 64-83. The Artist, Rene Gruau gave his talent to this Perfume Advertisement. Some of the other popular perfumes were, Jolie Madame, Ivoire, and Eau d'Amazone.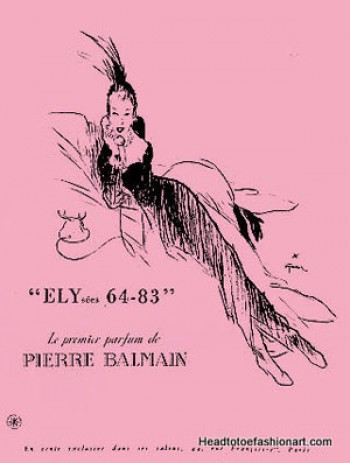 This magnificent elegant Bouffant skirt remained a high fashion trend during the 1950′s, mainly for evening dresses, combining a boned strapless top.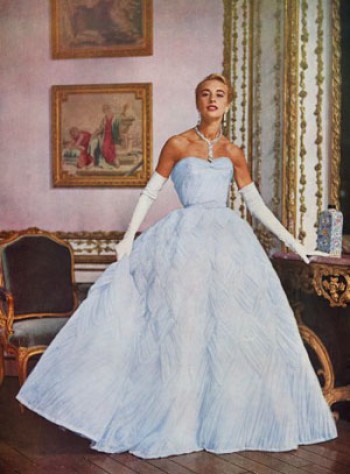 1952 The ultimate Wedding Day sensation by Balmain.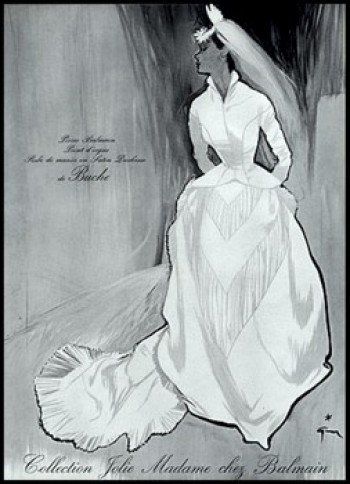 The 1960′s high fashion Paris
Photo 1962 – Roses are used to marvellous effect in this stunning dress design with a matching fine floaty.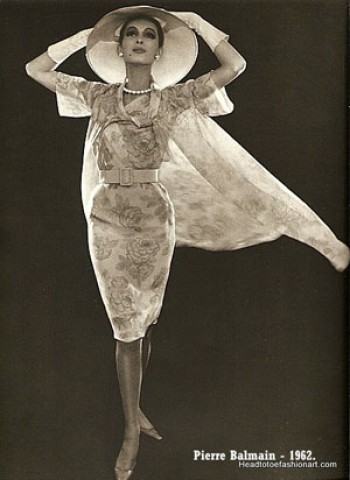 His coats were generously cut to give a full back and were sometimes half belted. This one is very fitted and designed for the Spring season 1962 – worn on an outing in the "E Type Jaguar". His Cossack like wraps and capes were trend setters. Balmain was noted as a Designer for the international set. Broadway Theatre credits include costumes for Sophia Loren in The Millionaires 1952, and Josephine Baker for her eponymous 1964 revue.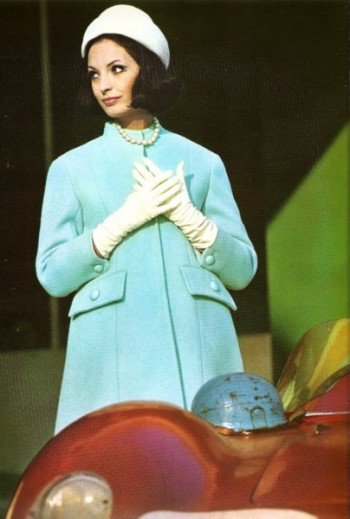 Photo – 1962 An exquisite example of the huge diversity of Pierre Balmain's designs. A smart tailored daywear design in a textured fine wool. In 1964 ~ Balmain wrote his autobiography, entitled "My Years and Seasons".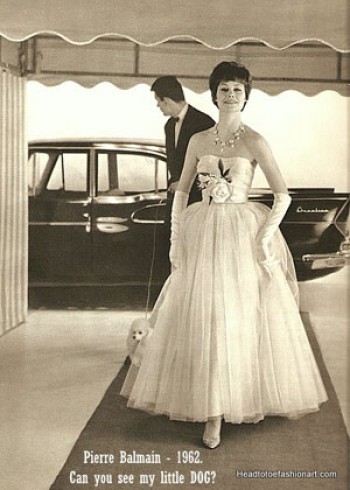 Another glamorous Balmain sylish dress for this entrance. "The Red Carpet is down for her and her dog"! The Danish Designer Erik Mortensen, his companion, worked with Balmain from 1948 continuing on after Balmain's death in 1982 until 1991.
In 1993 ~ Oscar de la Renta took over the courture design after Balmain, and presented collections for nearly 10 years, which were very successful. Pierre Balmain's huge talent as a Designer was in his ability to make simple tailored suits as well as grand evening gowns, in the same slender, supple and elegant lines.
During the 50′s he popularized the stole for day as well as for evening wear and created a vogue for sheath dresses beneath jackets. Could this have been influenced by his original workings with Edward Molyneux.