Robert Piguet ~ 1901-1953 Fashion Designer
Biography of Robert Piguet, fashion designer
His first drawings were rejected by the House of Lanvin. Resolutely, he continued by himself and in 1920 he opened his own Dressmakers business helped by his brother who was a Lawyer. This did not continue, and he proceeded to work for Paul Poiret and John Redfern, Masters of their Trade. This must have greatly benefited his talent in design.
With more support from his family he set up his own Fashion House in 1933 in the Rue de Cique. This was managed by his brother George. A long and difficult journey was finally brought to fruition. Success enabled him to open a branch in London during 1936.
His Fashion House internal decoration was most unusual and striking, set in the era of Italian Palaces using heavy drapery. The ceilings were painted with colours of a cloudy sky.
Importantly, his minute attention to detail and his personal attention to his models dresses, attributed to his contribution to the history of fashions as depicted by this photograph.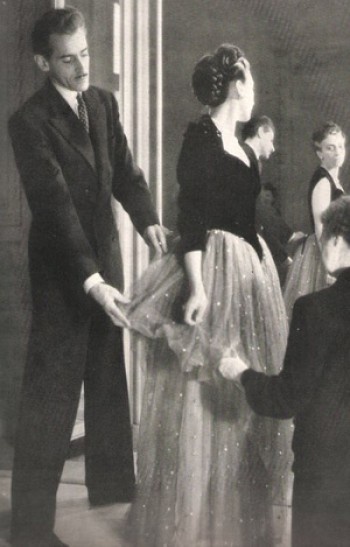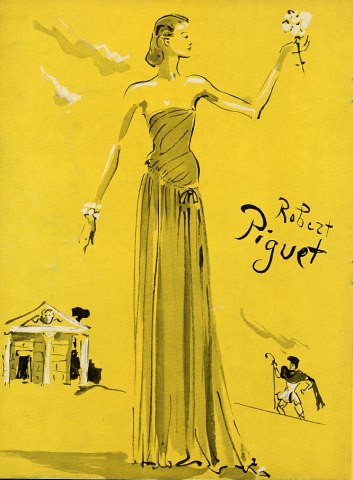 1937- Drawing by Artist : Christian Berard.
1938 From the Fashion Journal Petit Echo de la Mode. Showing an evening gown surrounded by some hat trends of the day.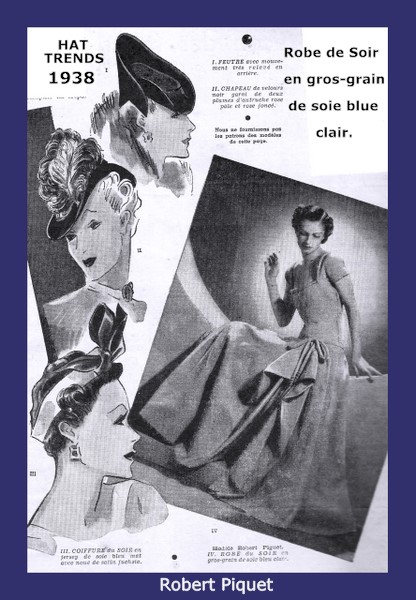 1939  –  Front Cover Journal Marie Clare.  Photo by SAAD – Couleurs Lemaitre. HALLO!  A fitted dark green dress with red inner scarf at the neck and matching red leather gloves.  Fur accessories are a thick muff and hat.  This is for  September chilly weather.
1939  –  Fur Jacket over a dress.   Description shown as:  Elegante robe de lainage ecossais et veste de ragondin.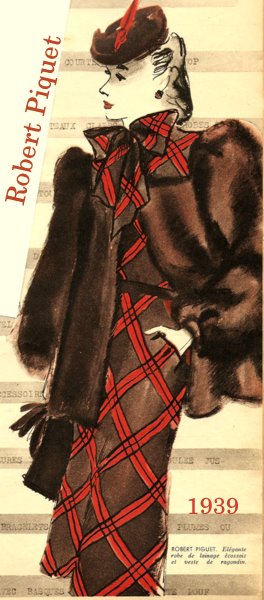 1940  –  Painting of a vibrant red check evening gown in a colourful background by the Artist: Christian Berard.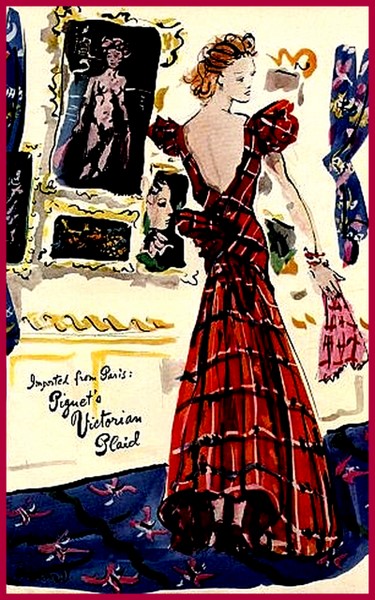 He also was the specialist trainer behind some future World Leaders in the fashion industry, namely Christian Dior, Pierre Balmain, Givenchy, Boham, and Galanos.
Christian Dior was said to have quoted ~ "Robert Piguet taught me the virtues of SIMPLICITY through which TRUE ELEGANCE MUST COME.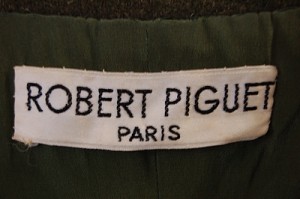 This completely describes the chic stylish lines known throughout the World  as  specifically French Design".
WINTER 1940 – Big Storms are brewing here "not sure her coat is sufficient for this she looks alarmed!"  Nonetheless its a smart cut and an unusual colour.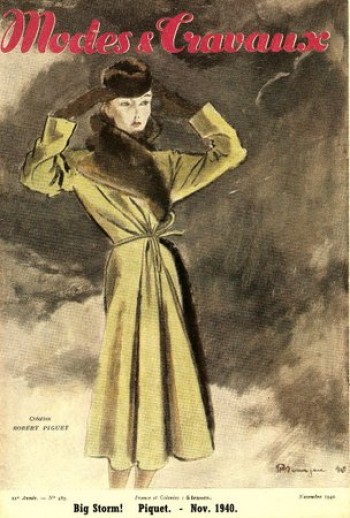 The House of piguet's day jacket & skirt for 1941 was a smart design. Evening fashions were also in great demand especially the most superb evening gowns designed using strong vivid colours.
He married Mathile, who modelled for Fashion Journals. His Clients from France included some famous Film and Theatre Stars, who wore his dramatic clothes for their performances.1941 – A pale blue silk satin textile was used for this fitted long line jacket it was overlaid with black embroidery. A large bow was fitted to the back. The same material was used for her gloves.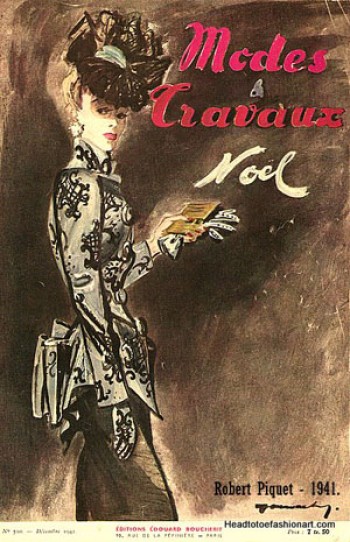 In 1944 ~ He became another Fashion House to branch into Perfumes, and two were developed, Bandit and Fracas 1944  – A rich luxurious velvet dark blue evening gown  with a boat shaped neckline infilled with tulle extending to the top of the sleeves.The French description is given here.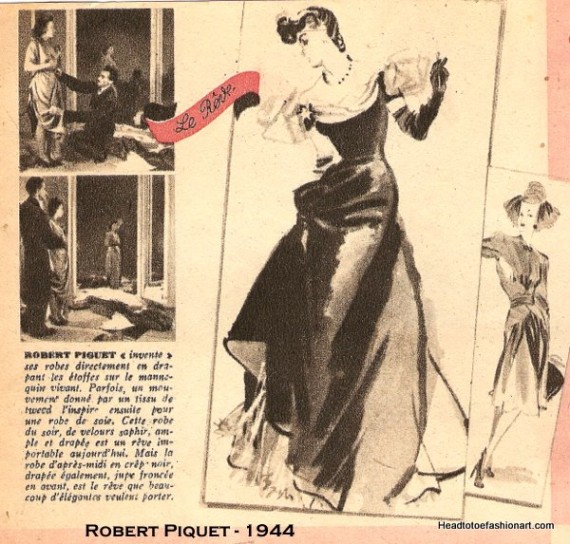 Text enlargement of the above description: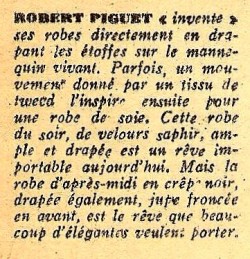 1947  A rare drawing of Robert piguet.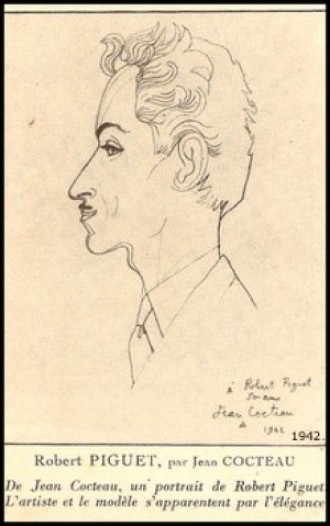 1948 Summer Special  – A  really elegant off the shoulder pretty dress, and dashing red long gloves to match her hair complete the picture.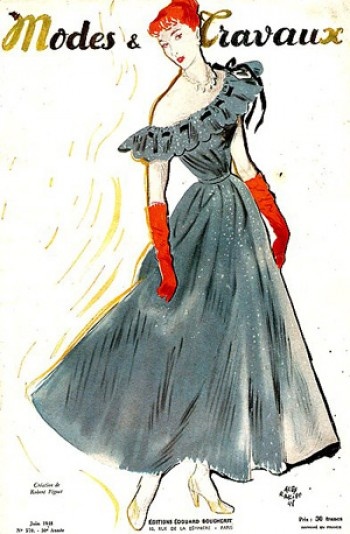 1948  Night walk  Artist: Benito.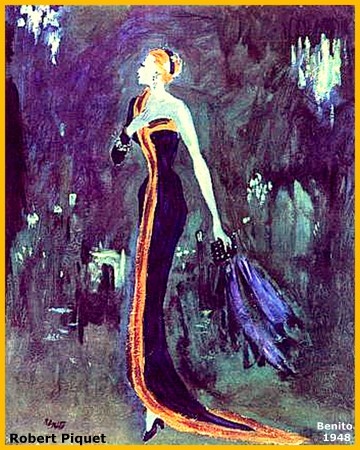 Robert Piguet continued his work until 1951 – retiring because of ill health.